Quoted Text
1. Your email provider is blocking the emails.
Spam blocking in the Yahoo! disposable address system is carried out at user end. Just to confirm this I contacted BT Yahoo! and they confirm that this is the case.
I have checked my spam blocker and there are no filters that are blocking your mail. Just to confirm this I turned off Spam Blocking and sent an email via the forgotten password button using Internet Explorer but it still did not arrive.
The fact that I cannot receive these emails is no great hassle as I have the password and can use Internet Explorer to access your forum. I just have to keep checking to see if any new posting has arrived.
One main drawback that I foresee is not being able to subscribe to your newsletter.
Quoted Text
2. On some of the screens in WinRescue there is text that I am unable to read properly.
Quoted Text
Those are the font - Small Fonts. Small Fonts comes installed in Windows. You must not have it installed.
The source of the problem is as you say Small Fonts but the answer is not quite that simple.
I know it is not a good idea to delete system fonts as they are used by various programs, but in order to determine what was causing my display issue I deleted smalle.fon and this rectified the problem.
I do not know what font Windows is substituting but it looks the same size and face as the other font you use.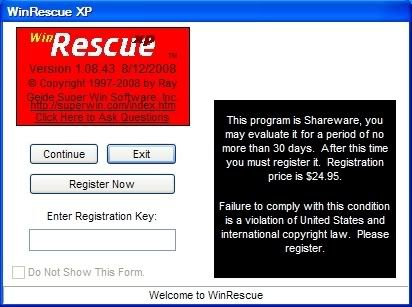 NOTE: The black text on red background is actually more readable than it shows in this screen shot.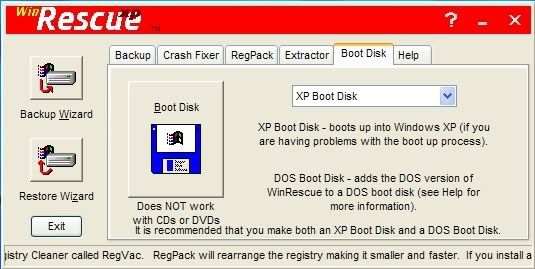 I think the problem now is the font size is not as small as intended but at least it is readable.
I did try reinstalling the font in case it had become corrupted but that was an issue in itself as it would not restore from the recycle bin but just disappeared from my system altogether.
I thought it was too much like using a sledge hammer to crack a walnut by using the Windows Setup XP cd to re-install just one font so I reinstalled it from another computer but it gave it the name smalle_0.fon. I understand this to be the name it gave it in Windows 2000.
I checked that the registry entry was correct and that it had a kb value. I activated it as Windows had de-activated it to protect my system.
However after all that it still produced the same text display problem as I had originally. Also after re-boot the font was not registered in any drop down lists so I have now deleted the font altogether and will have to leave it that way for now.
I did a search on the internet for my problem and did find another posting with exactly the same issue but there was no solution.
I did also try re-installing smalle.fon from my Windows XP cd using a Command Prompt I found on the internet but it would not install because the i386 file on my computer was set to read only and this could not be changed even by an Administrator. I discovered that many other users have had the same issue with this as well!
Amendment:
I have since found an excellent way of re-installing a font from the XP cd.
Go to .........
http://www.tips-tricks-winxp.tipcom.eu/#02
and find the link "
Missing or corrupted system fonts
"
Works perfectly.
Still the same display problem however but the method for installing a missing font was first class.
It is just a guess but I think the real problem may be somehow connected to my graphics card.
Quoted Text
3. OK, I found the link that does not work. It is on the front page. I have corrected it.
I still cannot get the link to work directly by clicking it.
This is the link I am referring to.